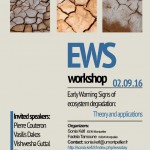 After the coming EcoSummit conference in Montpellier France (29 August – 1 September 2016) there will be a day of workshop on indicators of degradation in ecosystems organised by Sonia Kéfi and Pierre Couteron. This workshop is connected to the conference session on Indicators of Tipping Points.
The idea of the workshop is to get an overview about the underlying theory and the available tools. This day is open to everyone but especially targets students, young reserachers and anyone who would like to quantify indicators of degradation on his/her own data.
To stimulate discussions, participants can apply for a flash talk to present their research topic/data set (please apply by Friday 26 August).
Participation is free, but a subscription is requested (please send an email to Sonia Kéfi with the subject : "EWS day").
Invited speakers :
Vishwesha Guttal, Indian Institute of Science, Bengalore, India
"Theory of tipping points and their indicators"
Vasilis Dakos, ETH, Zürich
"Temporal early warning signals"
Ehud Meron, Ben Gurion University, Israel
"Periodic vegetation patterns and dryland degradation"
Pierre Couteron, AMAP, Montpellier
"Quantification of spatial indicators on aerial images"
Location:
The workshop will take place at Amphithéatre Charles Flahaut, Institut de Botanique, 163 rue Auguste Broussonnet, 34090 Montpellier.
The nearest tram stops are Albert 1ier – Saint Charles (on tram line 1) or Albert 1ier – Cathédrale (on tram line 4).